Wedding paperwork: Having troubles with necessary documentation for your Greek Wedding?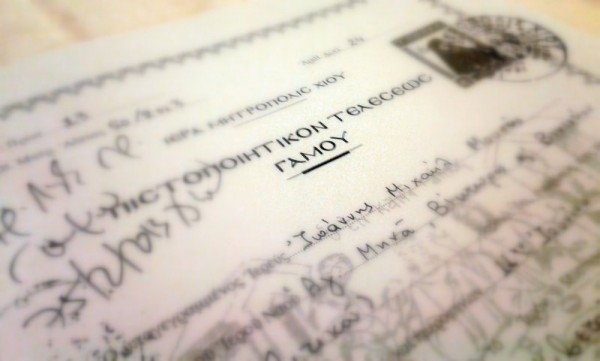 The following Wedding Paperwork documents are required to perform a legal Civil Wedding in Greece:
For European Union citizens:
Birth Certificates(full) with an Apostille stamp, translated into Greek
A "Single Status" letter or letter of non impediment endorsed with Aposille stamp. "Single Status" is a document issued from your local registrar and insures that there is no problem to get married.
Photocopies of passports (no translation required)
If divorced, then the divorce certificate is required (no translation required)
For non E.U citizens
Birth certificates(full) with Apostille stamp, translated into Greek
Marriage license, stating that it is also valid for Greece. It is also recommended that the marriage license be endorsed with Apostille Stamp
Or you can issue instead of Marriage license, a no impediment or Single Status letter which will mention that you are free to get married in Greece and date of marriage.
Photocopies of your passports (no translation required)
If applicable, documentary evidence (death certificate or final/irrevocable divorce decree) of the termination of a previous marriage (the most recent, if more than one), no translation required.
The Apostille Stamp that can be obtained from the Secretary of State of the issuing state.
All the above documents (except the passports) are to be translated into Greek and authenticated by your local Greek Embassy or Consulate. If you have problems or want to avoid the hastle, you can send us the authenticated original documents and we will take care of the translations (translation costs are extra – please ask us for the cost).
We would like to inform you that your birth certificates will be kept in your marriage file in the city hall. Therefore if you wish them back, please issue authenticated copies.
All the documents should be sent to us, 2 months prior to date of wedding. In return we will send you a confirmation issued by the Municipality verifying that all the documents are in order